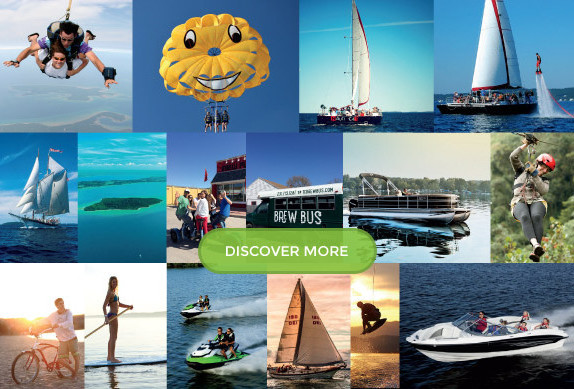 THINGS TO DO IN TRAVERSE CITY
YOUR HOME FOR ADVENTURE AND FUN!
TC Watersports is proud to partner with, and support many of the local businesses that keep Traverse City on the map as the best small town in the Midwest. Take a look at the many "things to do" we have listed below, and let us help make your summer vacation something you will never forget.
Traverse City is located on the 45th parallel, in what is known as the cherry capital of the world. The area is becoming known as one of the most well rounded and respected vacation destinations in Northern Michigan, the Great Lakes Region, and even the U.S., and has been named one of the nation's "top emerging adventure towns," one of the "top beach towns," one of the "top 7 beer destinations in North America," one of the "top 7 wine regions to watch," one of the "top five foodie towns in the U.S.," one of "America's top ten tourist towns," one of "the top 6 bicycle destinations in the country," and home to one of "the top ten scenic coastal drives" and "the most beautiful place in America."
You catch our drift – the Traverse City area is amazing!
It's also a perfect place for lovers out the outdoors to go swimming, hiking, scenic drives, sunsets, and much more. It is northern Michigan's hot spot for enjoying fantastic food, beverages, and local fare. Let's not forget the great downtown shopping district.